VERTERA GEL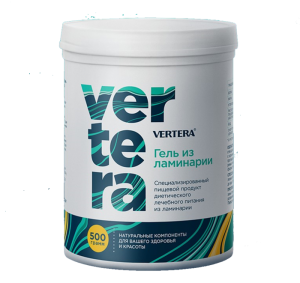 Seaweed cell gel Laminaria / live food.
A natural and specialized product for dietary and curative nutrition, which cleans and feeds the body at the cellular level.
90% of human illnesses arise due to the formation of slag in the body and the deficiency of a wide range of micro and macro elements as a result of the increasing amount of toxic food, contaminated air, water and the environment that negatively affect our organism. Vertera gel helps to clear any toxins from the body that cause fatigue, difficulty concentrating, headache, hormonal imbalance, allergies, swelling, constipation, lack of energy, common colds, skin problems, etc.
Who is Vertera Gel for?
For those who want to preserve their health.
For those who want to preserve youth and beauty longer in time ahead
For those who want to be energetic and thirsty
For those who want to lead a healthy lifestyle
For those who adhere to the principles of proper nutrition
What does Vertera gel help?
The main purpose is a diet-curative therapeutic food that helps to purify and saturate the body with important micro and macro elements at the cellular level. 100% organic live food.
Your benefits from the Vertera Gel product
Detoxification – cleanses the body from toxins and waste products of metabolism
Harmonizes the work of all organs and stimulates tissue regeneration.
Provides high energy levels and improved overall condition.
Optimizes Biochemical Reaction and Bioregulation processes
Favorable water-salt exchange.
Prevents many diseases associated with deficiency of beneficial substances for the body, as well as all natural substrates causing metabolic diseases.
Activates the regenerative processes of the body after disease.
Maintains and improves the condition of a diseased organism during treatment.
Affects the organism positively in almost all diseases.
Standards:
Special design and the only patented formula in the world. Strict control of all production processes, certified by a number of national and international certificates. International certificate ISO 22000: 2005. By complying with the requirements of this standard, Vertera also complies with the Hazard Analysis and Critical Control Point (HACCP) system implemented in accordance with the Food Law and the EU Regulations.
Product of the Year in Russia for 2015!
Composition of the product:
100% ORGANIC – Laminaria, water, additional components (antioxidant, citric acid-complexing agent, acidity regulator – calcium gluconate). The product does not contain any artificial ingredients, colorants and extracts. Production technology is patent protected and passes through 5 steps to extract all useful components from the laminar cell (brown algae) and preservation in their live form. Contains 20 amino acids, of which 8 essential vitamins A, B complex, C, D, E, micro and macro elements, omega 3 and 6, Fucoidan (the most powerful natural immunoregulator). Numerous clinical trials, and a deeper study of the chemical composition and range of effects on the body, make Vertera gel a group of specialized nutritional therapies. This product has nothing to do with food supplements or medicines. It is completely natural, effective and safe for health.
Directions for use
Inner intake: 2 tablespoons (20 grams) twice a day (total daily 40 grams) – 30 minutes before a meal. In individual cases, the amount of intake may be up to 100-150 grams per day.
May be mixed with the juice of your taste
It is recommended to drink 1 month, with a break of 5 – 7 days for 1 year.
Ability to use from the earliest to the old age, pregnant and breastfeeding
Outdoor Intake: The product can also be used as a facial, body or hair mask. There is a cleansing, moisturizing and firming action.
Features:
Store in a refrigerator at a temperature of 0 to + 5 ° C.
Expandable after opening – 21 days.
Consumption rate of 1 box Vertera gel – 10/12 days.
Made in Russia from an ecologically clean area.
For more information:  VERTERA  PRODUCTS
                         antoaneta.gribacheva@gmail.com 
You can see the whole catalog and order yourself with a 1 + 1 gift promotion through this easy free registration:   REGISTRATION